Our Technology
AcceleDent® Auro and Laser iTero® Scanner
---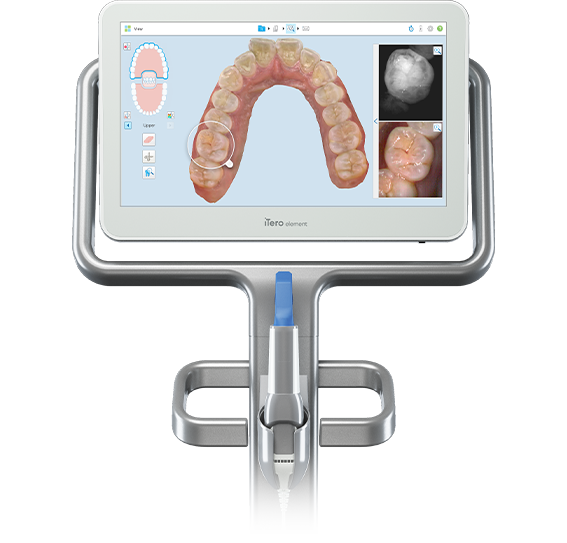 At Goshgarian Orthodontics, we continually monitor technological advancements for devices that improve the patient's experience. Whether it is improved comfort, shorter treatment time, or less invasive procedures, we care about making your visits with us the best they can be. We have recently acquired two new technologies, AcceleDent® Auro and Laser iTero® Scanner in Gurnee, IL, that should make your orthodontic treatment more pleasant.
What is a Laser iTero® Scanner?
The iTero® scanner makes it possible for Dr. Goshgarian to plan your orthodontic treatment from start to finish in less time. Our orthodontist runs the handheld device over each of your teeth, and it sends immediate digital images to a computer.
Thanks to the laser iTero® scanner, you do not need to deal with messy impressions or wait for our laboratory technicians to create a mold of your teeth. You also can banish the fear of gagging when you have wet plaster in your mouth. The process of obtaining images of your teeth takes just a few minutes with no discomfort experienced on your part.
What is AcceleDent® Auro?
AcceleDent® Auro is a handheld device that increases the speed of tooth movement for patients who wear braces or aligners. You wear the AcceleDent® mouthpiece over your braces or aligners for 20 minutes each day throughout the duration of your orthodontic treatment. Consist use of AcceleDent® Auro can reduce your total treatment time by as much as 50 percent.
As you wear the AcceleDent® Auro device, it sends gentle vibrations to your teeth, jawbone, tooth roots, and gums that mimic the sensation of an electric toothbrush. The movement increases cellular activity that speeds up the process of tooth movement.
Learn More About Orthodontic Treatment at Goshgarian Orthodontics
The AcceleDent® Auro and Laser iTero® Scanner in Gurnee IL are both life-changing technologies in the field of orthodontics. We invite you to learn more by scheduling a consultation in Gurnee or Lake Forest today.